Christmas is a week away but I am already thinking resort season!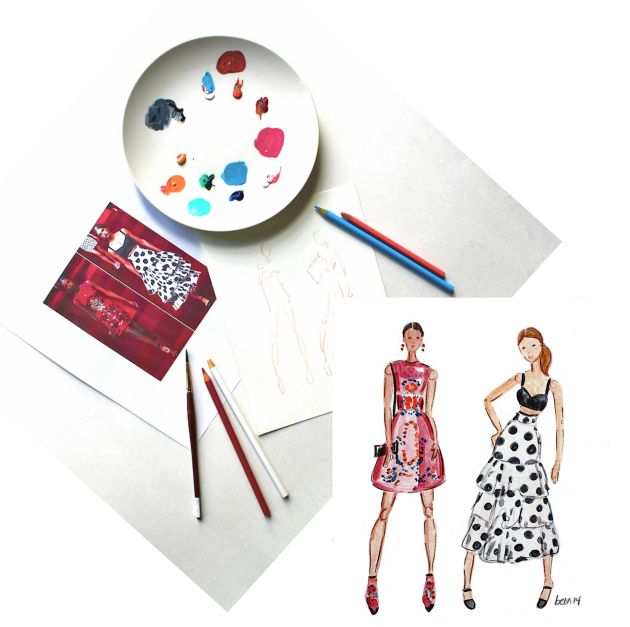 My favorite way to get there is to work on a mood board! Today's board is inspired by Dolce & Gabbana's 2015 Resort Collection….This simple yet luxuriously embroidered shift dress and high waisted skirt with an exposed midriff take me to a 5 Star Hotel in Cancun….
Here's a step by step peek at my process:
Gather your materials:
– A wet and dry palette of assorted watercolors
– A porcelain plate and small bowl of fresh water
– Paintbrushes and watercolor pencils
– A #2 lead pencil
– Watercolor paper
– An inspirational photograph
Optional supplies:
– A downloadable croquis
– A light box or a sunny window
Begin by outlining major shapes with a flesh colored watercolor pencil (use a lightbox or a sunny window to trace around the croquis if you are not comfortable drawing freehand), then lay down a light wash of prominent colors…
Layer on deeper hues and shadows……pencil in facial features and darken hair…..
Finally, add garment details and outline shapes with your watercolor pencils…..Use the lead pencil to sharpen features like the eyes, hair and accessories….and don't forget to sign your work!
What's your favorite way to get in the resort mood? Where would you go? I'd love to know!