Have you noticed all the unbelievably beautiful photos of wedding cakes on Pinterest lately? Have you ever wanted to paint your own wedding cake? Today I have put together a quick tutorial to show you how!
Start by gathering a few materials….
You will need a sheet of watercolor paper, assorted watercolor pencils, a lead pencil, a watercolor paintbrush or two, either a dry palette of watercolors or several tubes of watercolor paint in shades you like, a small porcelain plate for mixing colors and a small bowl for fresh water.
Optional materials: a light box for tracing outlines or a sunny window
Start by outlining the major shapes in your photograph with a light flesh colored or grey watercolor pencil…if you don't feel confident drawing these shapes free hand use your light box or a sunny window to trace around the major shapes….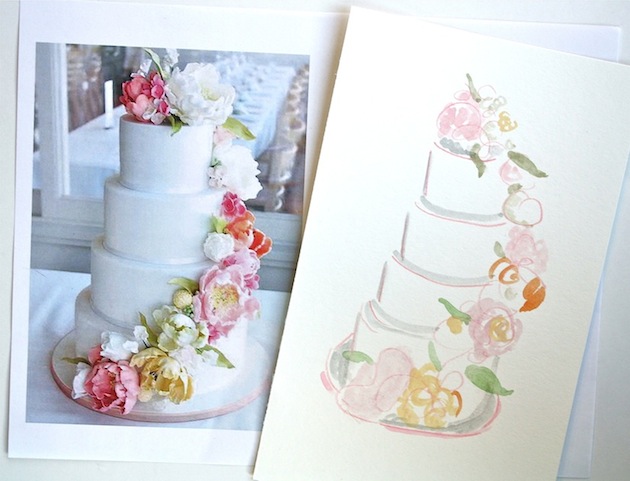 Establish your colors by laying down light washes of paint….
Now add more saturated layers wherever you see shadows to define petals, leaves and other details….
Next, loosely outline the flowers, leaves and cake layers with your corresponding watercolor pencils so they really come to life! I always like to add the finest details with a good old fashioned #2 lead pencil…For instance in this illustration I have circled all the tiny berries and outlined a few petals with my pencil. You definitely don't want to outline every shape, only a few…this will give your painting a sketchy feel….
And, finally, don't forget to sign your work!
If you liked this tutorial please feel free to share the first image on FB or Pinterest!