I bought some beautiful clementines the other day which were so pretty I decided to set up an impromptu photo shoot against a backdrop of 50's vintage tablecloths from my collection! Then I got out my watercolors and created a little postcard sized painting from my favorite photo of the bunch……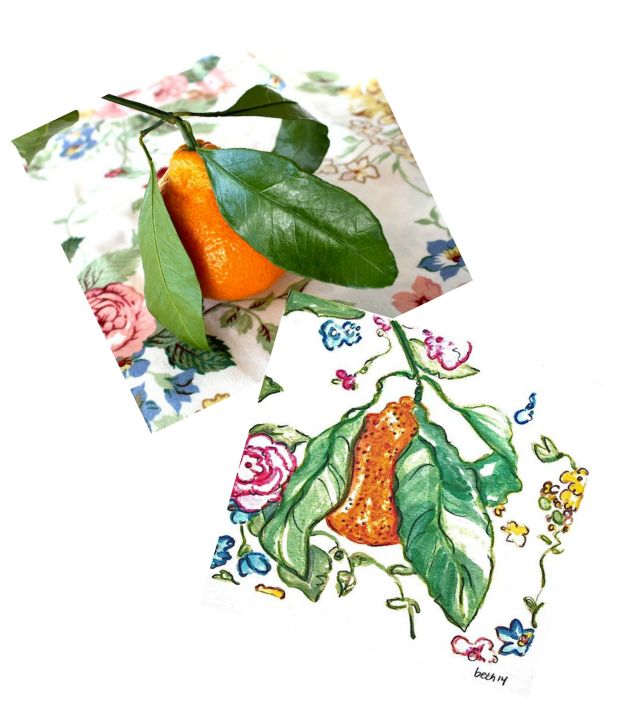 Here's my step by step tutorial for creating a little work of art for the perfect holiday gift:
1- Gather your materials:
photograph
watercolor paper
watercolor pencils
watercolor paints (dry or wet palette)
porcelain plate for mixing colors
small bowl for clean water
paintbrush
#2 lead pencil
Lightly outline the major shapes with a flesh colored watercolor pencil (feel free to use a light box or a sunny window if you aren't comfortable drawing shapes freehand)
2- Use light color washes from your palette to establish the foundation of the piece
3- Create shadows with darker shades (petals, leaves, stems) – stay loose with your paints and leave lots of white!
4- Now add details with your watercolor pencils………define leaves, petals, the rough texture of the clementine skin and stems…then finish up with some quick, sketchy marks with your #2 lead pencil….
And, finally, don't forget to sign your work!
If you work within a 4″ x 6″ or 5″ x 7″ area you can easily purchase an inexpensive mat or frame to finish off your painting in style.
I hope this tutorial will inspire you to create your own little works of art for the perfect gift for family and friends this holiday season……Please feel free to share your images with me if you do!
I have also shared this link on Simple Nature Decor's Fabulous Friday Party! Please visit to see lots of Holiday DIY's!
Remember….there are no mistakes in art….