Happy November, lovelies! Today I'm reposting an oldie but goodie tutorial I shared just about a year ago showing my technique for creating a fashion illustration mood board. I'm super excited to announce that I'll be teaching a workshop here in NYC next month (more on that later!) so I'll be sharing lots of tips and tricks with you in the next few weeks as I prepare my outline for the class. This will be an amazing afternoon to share with your bestie or come on your own and meet new friends! I'll share my method for creating a fashion "croquis" which you can use over and over again and demonstrate brushwork techniques which do the work for you! You will leave with your own beautiful 8″x 10″ watercolor illustration ready to give just in time for the holidays!
My inspiration for this Mood Board comes from the 2015 Lela Rose Resort Collection…..
Here's what you'll need:
– a couple of images from a designer you like
– a downloadable "croquis"
– watercolor paper
– watercolor pencils
– small porcelain plate to use as your palette
– assorted paintbrushes
– #2 lead pencil
– small bowl (I like to use a tea cup) for clean water
– a carefree attitude! This is play, not work!
Start by mixing some of the colors you will use on your plate and create a color strip for reference. Practice tracing the croquis against a sunny window until you get a feel for the lines then draw one on your watercolor paper with a flesh colored watercolor pencil to establish your foundation.
Start to build up light washes of color….
After the colors have been laid down add finishing details with your pencils including facial features, soft hair strands and embellishments such as lace or embroidery…
And, lastly, always sign your work!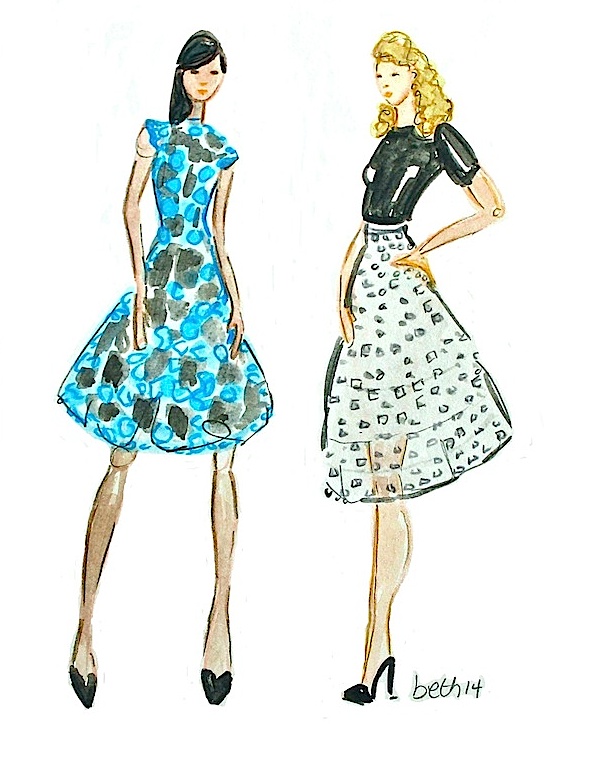 Creating Fashion Illustration mood boards is a fun and satisfying project and a great way to establish your signature style!