I love the trend of magazine cover illustrations showcased by some of the amazing artists out there so today I am sharing my tips and techniques for creating a gorgeous magazine style portrait inspired by this amazing photo of Adele taken by Annie Leibovitz for the March issue of Vogue…..
Let's begin!
For this portrait I used watercolor paints, watercolor pencils and copic markers…….you will also want to have access to a light box or a sunny window for tracing…..
Step 1: With a light flesh colored watercolor pencil sketch her face using the light box or a sunny window to help you with outlining major shapes….Be sure to outline the typography as well! This is what will give your illustration an authentic fashion magazine appeal……
Step 2: Begin to add washes of watercolor….
Step 3: Add details such as eyelashes, arched eyebrows and strands of hair with bolder strokes of your watercolor pencils……Outline arms and dress details with quick, sketchy strokes in strong, contrasting colors…
Step 4: Now create and sculpt the features of her face with a variety of flesh toned copic markers…these markers are absolutely the best for shading and shadowing! Start with stronger peach tones to shadow her eyes……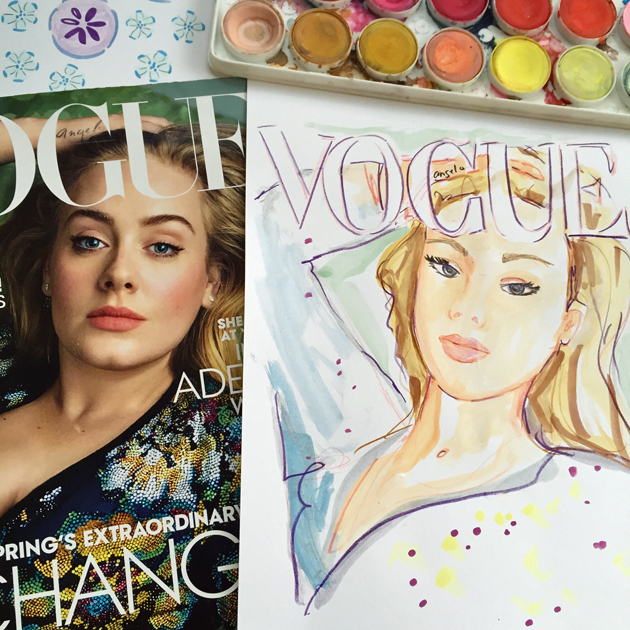 Then use pinks and browns to create shadows around her nose and cheeks, finally using a berry or brown marker to stain her lips-just like applying a lip stain to your own mouth! The idea here is to create shadows following the image in the photo.
Step 5: Step back from your piece and analyze the colors……where can you add a final pop of strong pigment? After all, if you are the Art Director for a Fashion Magazine your job is to get your cover noticed so be bold and creative! I added a daring dash of neon to my finished illustration to give Miss Adele a pop art quality…..
This is a really fun exercise and I would love to see your magazine cover illustrations using this technique! Feel free to share this link on FB, IG or Pinterest!
Adele kicks off her North American Tour on Sunday, September 25th at Madison Square Garden! For more information, tickets and her full tour schedule visit:
Have fun!!