Hi lovelies! It's time to gear up for the holiday gift markets and pop up shows which are just around the corner! As most applications are online these days I have created this post to feature my Artist Chic Bracelets for consideration for Gift Show Juries and Boutique Buyers. Let the shopping begin!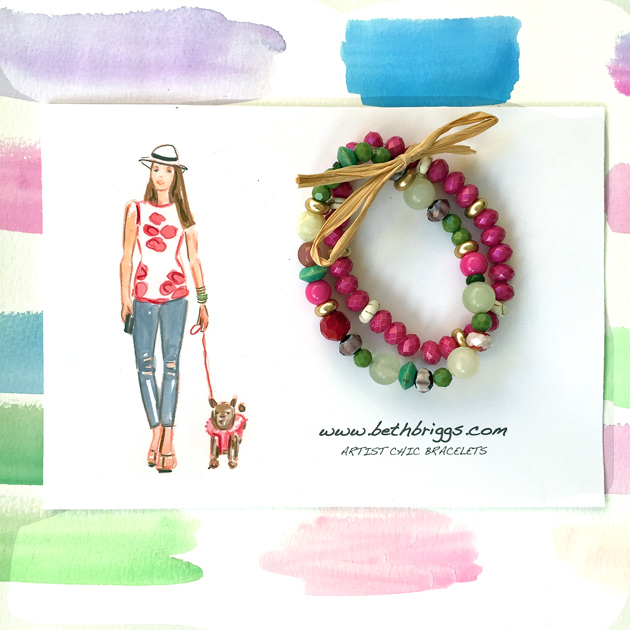 Remember the old TV commercial for Reese's Peanut Butter Cups where, through a happy accident, a jar of peanut butter and a chocolate bar came together and formed an exquisite peanut butter cup? Well that's what happened when my passion for fashion illustration collided with my extensive collection of beads and baubles not too long ago…….
I made a few stretch bracelets to compliment my illustrations and was so happy with the results that I knew this would be a beautiful and unique gift to bring to the marketplace this season! "One size fits most" bracelet pairs are adhered to 5×7 card stock prints of my original illustrations….Bracelet sets are then sealed in cello packages for the perfect ready to give gift! I source my beads from my vintage collection and I also scour the Garment District here in NYC for the most beautiful colors and shapes I can find – Collect them, stack them, mix and match them…….Artist Chic style!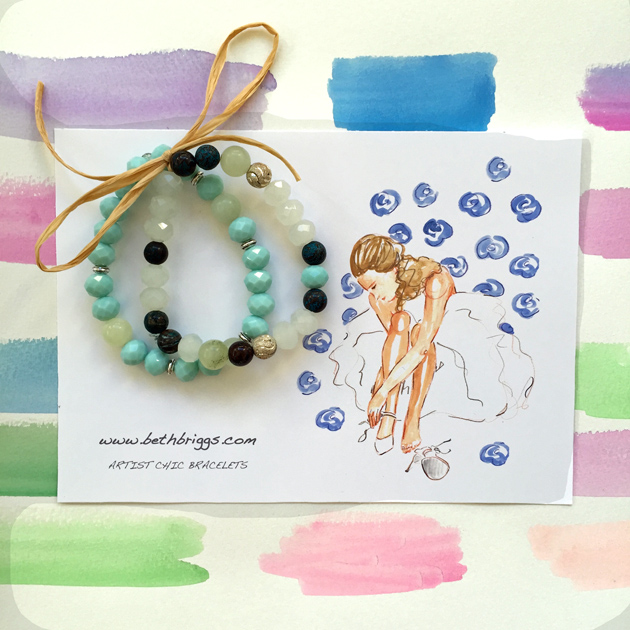 These are just a few samples of Artist Chic Bracelet Sets available now…I'm working on Fall and Holiday themed sets to bring to market in the next few weeks!

I'd love to ship an assortment to you this holiday season!
Retail price for 1 Bracelet set is $40
Wholesale pricing as follows:
12 sets $275
24 sets $500
36 sets $700
Please don't hesitate to contact me for more information or to inquire about live fashion sketching at your next party or event!
Email: bethbriggs2010@gmail.com